Shopping for an Air Purifier with Permanent/Washable Filter?
Let us help you find the right one.
A healthy body and mind begin from a fresh and clean home environment.
An air purifier is one of the cheapest and easiest investments to maintain your health, wellness, and peace of mind, as well as a healthy home environment.
While some people shy away from purchasing one because of the extensive maintenance and filter changes, an air purifier with a permanent or washable filter can really help you better manage the costs better.
Why Do You Need an Air Purifier with Washable Filter?
Air purifiers are certainly not the cheapest home appliance. Their initial upfront cost varies from model to model. Plus, the filter replacement costs add up over time as well. So it really is quite a significant investment and should therefore be taken seriously.
Using an air purifier with a washable filter not only helps you cut down on maintenance costs but it is also an eco-friendly option.
Here are some other important reasons why you need an air purifier with a washable filter.
Economic
As we mentioned earlier, air purifiers can become quite costly in the long run.
While a unit's retail price may initially appear pleasing, the overall costs can quickly build up. You will find yourself replacing filters every 3 to 12 months. And if truth be told, air purifier replacement filters can really burden your pocket.
Using an air purifier with a washable filter helps you keep the total cost in check. It is an economical and affordable way of maintaining a pollutant-free home environment.
Effective against common pollutants
Washable filters, whether HEPA or iFD filters, are quite effective at capturing common air pollutants. These include dust, lint, pet dander, and pollen. These two types of washable filters differ in effectiveness by a mere 0.2 percent, so it's safe to choose either one.
Reusable
Unlike replaceable air purifier filters, washable filters are reusable. When you notice a decrease in air cleaning efficiency, you can take out the filter and wash it to restore optimal performance.
The best part?
The more you wash a reusable filter, the more its effectiveness increases. There is no lifespan for a reusable filter, and you only need to replace it when it is damaged.
Low Maintenance
Air purifiers with washable filters are generally quite low-maintenance. Cleaning these filters is a quick and easy job. You can quickly vacuum one or rinse with water. You can even wash them in a dishwasher!
Plus, there are no additional maintenance costs.
---
What's In This Buying Guide
An air purifier with permanent or washable filters is a greener approach towards air purification. Such air purifiers don't need replacement as often and tend to last longer than their traditional counterparts.
In this buying guide, we review some of the best HEPA air purifiers with permanent or washable filters. We cover their pros and cons and briefly describe their features.
We also list some important features to look for in a HEPA air purifier with permanent or washable filters and explain its care and maintenance protocol.
Lastly, we answer some critical questions that might interest anyone looking for a washable filter air purifier.
But, if you're particularly interested in an air purifier for mold, check out our reviews for the best ones here.
---
Best Air Purifiers With Washable Filter
Winix 5500-2 Air Purifier

Best Overall

Dimensions
15 x 8.2 x 23.6 inches

Coverage Area
360 square feet

Filter Options
Washable Mesh Pre Filter, Washable AOC Carbon Filter, True HEPA filter, and Plasma Wave technology

Warranty
2-year manufacturer warranty
LEVOIT Vital 100 Air Purifier

Runner-up

Dimensions
12.8 x 6.4 x 16.1 inches

Coverage Area
Up to 500 square feet

Filter Options
Washable pre-filter, High-Efficiency Activated Carbon Filter, and H13 True HEPA Filter

Warranty
1-year manufacturer warranty
Hamilton Beach TrueAir

Best Portable with Permanent Filter

Dimensions
8.5 x 6 x 13.54 inches

Coverage Area
160 square feet

Filter Options
Permanent HEPA-Grade Filter

Warranty
1-year manufacturer warranty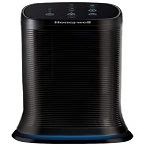 Honeywell HFD320 AirGenius

Best Tower with Washable Filter

Dimensions
9.9 x 9.7 x 26.8 inches

Coverage Area
250 square feet

Filter Options
Washable Foam Pre-filter, Permanent iFD Filter, and optional carbon filter
---
The Winix 5500-2 Air Purifier is the best-selling product from a reputable manufacturer. It boasts a wide coverage area with 4-stage filtration, including two washable filters.
This Winix unit is CADR-rated to cover a 360 square feet area. It has a built-in light sensor to report air quality in real-time. Plus, the filter change indicator helps you learn about filter conditions.
You can remotely operate the 5500-2 purifier with the included remote control. A user-friendly control panel on top lets you easily adjust the mode, speed, and timer settings.
Pros
Wide coverage area
4-stage air filtration system with 2 washable stages
Operates on 4 different fan speeds
Sleep mode for nighttime operation
Light sensor to show air quality 
Cons
Loud on the highest speed
Available in black color only
Our Review
We really like the Winix 5500-2 Air Purifier because of its fast-acting and odor-reducing performance that utilizes advanced modern technology to clear and clean the air.
It relies on a 4-stage air purification system. The first stage in the Winix air purifier with a washable filter is the mesh pre-filter that traps bigger particles like lint and dirt.
The second stage is an AOC Carbon Filter that bonds with odor-causing particles and captures them within its porous structure. Both of these stages are washable.
Winix 5500-2 also uses a HEPA filter to capture up to 99.97% of particles down to 0.3 microns.
Lastly, a Plasma Wave stage produces hydroxyls to break down bacteria, viruses, and other allergens without producing harmful ozone.
A noteworthy feature of this Winix air purifier is its ease of operation. It comes with a user-friendly remote control to adjust its settings from afar.
Plus, an easy-to-navigate control panel on top lets you regulate fan speed, operation modes, and timer settings.
Dimensions: 15 x 8.2 x 23.6 inches
Weight: 15.4 pounds
Energy Star: Yes
Remote control: Yes
Noise Level: 27.8 decibels
Light Sensor: Yes
---
The sleek and simple Levoit Vital 100 Air Purifier is a well-designed air cleaner with a washable filter that works easily and efficiently. It can clean areas as big as 500 square feet in 30 minutes only.
The Vital 100 features a triple-stage filtration system consisting of a washable pre-filter, an H13 True HEPA Filter, and a High-Efficiency Activated Carbon Filter.
Combined, all of these remove up to 99.97% of airborne pollutants as small as 0.3 microns.
Pros
Sleek and straightforward design
Ozone-free
Affordable
Simple and easy to use
Energy-efficient
Cons
Noise level climbs substantially at more effective levels
Filter change indicator malfunctions
Our Review
Vital 100 is one of the best-selling air purifier models from the #1 selling air purifier brand in the US, Levoit. It features a sleek, narrow, boxy design with air inlets on the back and a clean air outlet on the top. Touch-sensitive buttons towards a corner on top allow you to adjust its settings.
With three air filtration layers, this Levoit air purifier can effectively tackle smoke, pet dander, pollen, cooking smells, pet odors, and mold spores, among many other airborne particles.
It features a washable pre-filter as the first stage to capture visible particles like lint and fur. Then the air passes through the carbon filter that separates odor-causing molecules. Lastly, an H13 True HEPA filter removes micro particles measuring around 0.3 microns.
We really like the Vital 100 for its ease of use. Plus, you can control its settings with touch-sensitive buttons.
The Vital 100 operates works almost silently at the lowest speed, but as you increase the speed, you will notice a substantial increase in its sound level. Levoit suggests running it at high speed when the air is extremely dirty and lowering the speed after 30 minutes or so.
Dimensions: 12.8 x 6.4 x 16.1 inches
Weight: 9.3 pounds
Energy Star: No
Remote control: No
Noise Level: 23 decibels
Light Sensor: No
---
The Hamilton Beach TrueAir Air Purifier is one of the most versatile yet portable units on our list. It features a compact and stylish design.
The TrueAir features a permanent HEPA-grade filter that does not need replacement. You only have to vacuum it every once in a while, to remove the dirt and particulate matter.
Pros
Extremely affordable
Compact and portable
Can be placed horizontally or vertically
Great for small spaces
Permanent filter does not need replacing
Cons
Not suitable for bigger spaces
Only one filtration stage
Our Review
TrueAir comes as a portable and highly versatile model from a reliable manufacturer.
It features a minimalist design that is great for covering areas as big as 160 square feet. And since it is lightweight and portable, you can take this Hamilton Beach unit with you to the office or use it in your car.
Where most air purifiers can only stand vertically, this incredibly versatile unit works both horizontally and vertically.
It contains a permanent HEPA-grade filter that effectively captures particles down to 3 microns.
Now, it is not as efficient as any true HEPA filter air purifier, but it gets rid of the most common airborne pollutants in a matter of minutes. And despite its size, it delivers impressive performance and traps 99% of contaminants.
You can also choose to run this Hamilton Beach unit at 3 different speeds. It runs quietly on the lowest setting, but you may notice slight noise at the highest speed.
TrueAir is available in different colors to choose from.
Dimensions: 8.5 x 6 x 13.54 inches
Weight: 5.74 pounds
Energy Star: No
Remote control: No
Noise Level: Not specified
Light Sensor: No
---
Honeywell Air genius is an excellent tower air purifier with washable filters. It features a permanent iFD filter that is almost as efficient as any disposable HEPA filter.
The air purifier is highly effective and removes up to 99.9% of airborne particles down to 0.3 microns.
The AirGenius 5 is designed to clean rooms measuring 250 square feet up to 5 times an hour. That makes it 120 times per day if you decide to run it round the clock.
Pros
Permanent iFD filter
Sleek and minimalistic design
5 air cleaning settings
Energy Star-rated
5-year warranty coverage
Cons
Expensive
Accent lights don't turn off
Our Review
Honeywell is a known name when it comes to purifiers, dehumidifiers, or heaters. The HFD320 AirGenius 5 Air Purifier comes as a versatile product that delivers exceptional performance.
It features a permanent, washable iFD filter that efficiently removes air pollution up to 99.9%. There are two pre-filter options too. One is a washable foam filter, and the other is a disposable carbon filter that traps odor molecules. You can choose to use either or remove both.
Meanwhile, the permanent filter in the Honeywell AirGenius 5 is washable, so you don't need to worry about buying replacement filters.
This tower air purifier is suitable for areas as big as 250 square feet. In this space, the AirGenius 5 can filter and circulate air up to 5 times an hour.
To make this purifier even more efficient, you can choose between 5 cleaning settings. These include sleep, germs, general, allergens, and max.
A check filter status light bar on the AirGenius 5 tells you when your filters are clogged and it is time to wash them.
And although the Honeywell AirGenius 5 does not let you turn off the accent lights, you can turn down their intensity.
Dimensions: 9.9 x 9.7 x 26.8 inches
Weight: 9.1 pounds
Energy Star: Yes
Remote control: No
Noise Level: Not specified
Light Sensor: No
---
Buying Guide: Air Purifier With Washable Filters
How Does an Air Purifier with Washable Filter Work?
An air purifier with washable filters works in the same way as a traditional replacement filter air purifier. A powerful fan pulls in the contaminated air and passes it through various filtration stages, blowing out cleaner and fresher air back into the room.
The only difference is that when the filters in a replacement filter air purifier become clogged, you need to replace them with new ones.
But when the washable filter in an air purifier becomes clogged, you can take it out, wash or vacuum it to remove the particulate matter and reinsert it to continue using the same filter.
There is no need to purchase new filters every time; a single reusable filter will last you for a long time.
Why Buy an Air Purifier with Washable Filter?
Washable air filters not only help you cut back on waste but are also a much more economical option for most households.
Here are more reasons why you should buy an air purifier with a washable filter.
Cost-effective option
An air purifier with a permanent or washable filter may initially have a higher upfront cost. But if you add up and compare the maintenance costs of replacement filters, washable filters are more affordable.
If you are particular about cleaning and maintaining yours, a washable filter will easily last you anywhere from 3 to 5 years.
Since replacement filters need changing every three months or so, a washable filter pays for itself quickly, lasting as long as 50 disposable filters. So, a washable filter is a cost-effective option.
Less waste
All the fiberglass, metal, and cardboard materials that go into waste with every discarded disposal filter end up in the landfills.
Sure, the cardboard will decompose, but fiberglass will not. And the metal components of traditional, disposable filters typically don't get separated out at the landfill due to time restraints.
Imagine how many resources will be saved if everyone starts using a washable filter.
Air purifiers with washable filters save both money and resources and reduce a lot of your waste.
No more hoarding for new filters
It is natural to forget to buy a new filter beforehand. Some users forget to get one even days after the filter change light turns on, while others like to stock up filters in advance.
But with an air purifier with a washable filter, there is no need to stock up ahead of time or make last-minute runs to the store to buy another filter.
Once the check filter light turns on, all you need to do is take the filter out, wash or vacuum it, reinsert, and continue using it as usual.
Features to Consider: Air Purifier with Washable Filter
Not every washable air purifier is made the same way. You have to identify your unique requirements and application to pick out the right one for yourself.
Here are some features to look out for.
Coverage Area
The coverage area of an air cleaner with a washable filter indicates the largest room it is usable in. Some units have smaller area coverage, while others are capable of covering medium to large spaces.
However, most washable HEPA filter air purifiers cannot cover areas larger than 600 square feet. As the room size increases, these devices start struggling to keep it clean.
Before you make a purchase, make sure you know the size of the room you are buying it for. Try to go for an air purifier that circulates and filters air multiple times every hour in that particular area.
Style
While certainly not the most critical factor, the style of the air purifier can make a difference. You can choose between tall, tower-style units, small portable ones, cylindrical models, or narrower devices, amongst many others.
The key to finding the right style is to first determine where to place your washable air purifier.
If you want to place it on the floor, go for taller models. If you are going to place it on a nightstand or coffee, a compact model will work the best.
And if you are looking to purify the air wherever you go, choose a portable unit that you can take with you everywhere.
Noise Levels
Running a washable HEPA filter air purifier filter at full blast can sometimes be a little loud. You should look for a model with multiple fan speeds.
Many washable air purifiers boast near-silent operation at the lowest speed, while others offer a sleep mode for night time operation.
Typically, the noise levels go up as the speed increases. You should check the noise levels produced by the device at its highest speed to make sure you are comfortable with it.
CADR Level
The CADR rating on any air purifier refers to its clean air delivery rate.
In other words, it is the amount of air it can filter at a given time. The rating is usually listed for dust, smoke, and pollen and can range between 10 and 450.
The higher the rating, the more efficient the device at removing these particles.
We recommend choosing a unit with a minimum of 100 CADR. Anything lower won't be very effective.
Filter Options
The better the filter options, the more effective the air purifier.
In addition to the washable filter, an air purifier should also feature other filter options like an activated carbon filter and a HEPA filter to ensure maximum pollutant removal.
Some air purifiers with permanent filters only contain a HEPA filter. Others are complete multi-stage systems with different filtration stages, each designed to target specific pollutants.
You should also go for a unit with multiple filter options as they deliver more efficient cleaning performance than their single-stage counterparts.
Filter Life Indicators
Filter life indicators increase the user-friendliness of an air purifier. They eliminate the need for guesswork to determine the filter's efficiency and inform you when it is time to wash your washable filters.
You should also purchase an air purifier with filter life indicators, as these play a vital role in ensuring proper maintenance of your device.
Control Options
Some air purifiers have designated control panels, while others boast simple one-button operation.
Meanwhile, you can control some models using the provided remote controls or connect them over Wi-Fi with your smartphone and operate them using the compatible app.
You should carefully consider the different control options offered by various devices to find out the one that best works for you.
Pros and Cons: Air Purifier with Washable Filter
If you don't want to deal with the hassle of changing the filter frequently and spend additional money to purchase new ones, your best bet is an air purifier with a washable filter. It is easy to maintain and sometimes works better than replaceable filters.
However, they have some cons, too.
To make a well-informed choice, here are both aspects of air purifiers with washable filters.
Pros
Cons
Care and Maintenance: Air Purifier with Washable Filter
Caring for and maintaining an air purifier with a washable filter is pretty straightforward.
You can wash one in the sink by placing it directly under running water. Or you can also soak it in soapy water and rinse for a more thorough cleaning.
If you have a non-washable permanent filter, you can use a vacuum with a soft brush or upholstery attachment to clean it.
Run it over both sides and make sure you clean between the pleated layers, too. This will get rid of the dust and particulate matter clogging the filter pores.
We also suggest wearing a mask if you are allergic to dust.
---
Frequently Asked Questions
Does my Air Purifier with Washable/Permanent Filters Produce Ozone?
Whether your air purifier produces ozone really depends upon the air purification technology it incorporates.
Devices with HEPA and carbon filters do not produce ozone. On the other hand, electrostatic precipitators and ionizers usually produce ozone, but in small amounts.
We suggest checking if your device is certified by some authority or a trusted organization for use at home.
When Should I Change the Washable Filters?
Washable filters are more cost-effective and eco-friendly than their disposable counterparts. You don't need to change them very often. But they should be washed, dried, and re-installed once a month for optimal performance.
If you clean and maintain yours properly, there is no need to change the filter sooner than 3 to 5 years.
Are Washable and Permanent Filters the Same?
Washable and permanent filters are the same in the sense that both are reusable. While not all reusable filters are washable, you can vacuum them to clean and reuse them.
Washable ones don't need vacuuming as you can easily place them under a water stream to remove accumulated particulate matter obstructing the pores.
Do reusable air filters last long?
Reusable filters have an average lifespan of about 3 to 5 years. Some high-quality ones even last as long as 10 years if cleaned and used correctly. At this rate, these can actually last the lifetime of your air purifier without needing replacement.
Can I Wash an Activated Carbon Filter?
If your activated carbon filter is not explicitly labeled as washable, you can't wash it without damaging it. However, washing carbon filters isn't really useful.
The filters capture odor and odd taste-causing particles and chemicals in the pores because carbon chemically bonds loosely with the airborne chemicals. Water does not wash off these bonded chemicals.
How Effective are Air Purifiers with Washable Filters?
Air purifiers with only washable filters are not very effective on their own. They work more like pre-filters and need some other filters to assist them in effectively removing air pollutants.
However, if you have an air purifier with a washable iFD filter, it's as effective as a HEPA one.
---
Final Verdict: What Is the Best Air Purifier with a Washable Filter?
Air purifiers are excellent appliances to control indoor air pollution. However, because of their disposable filters, they also contribute to our increasing waste.
Luckily, units with washable filters help you cut down both on the waste and cost.
If you are interested in purchasing a fast-acting yet effective air purifier with a washable filter, choose the Winix 5500-2 Air Purifier. This smart device greatly helps reduce both electrical and maintenance costs.
The Hamilton Beach TrueAir Air Purifier is another viable option for anyone looking to purchase a portable permanent filter air purifier.
Lastly, Honeywell HFD320 AirGenius 5 Air Purifier is a versatile yet functional unit that delivers noticeable results in a small amount of time.