Shopping for a Whole-House Air Purifier?
You've come to the right place!
According to a study conducted by the World Health Organization, almost 3.8 million people die from exposure to indoor air pollution every year.
Fortunately, whole house air purifiers can effectively protect you and your family from the dangerous pollutants present in your home.
They improve the air quality inside your home by filtering out contaminants and ensuring that you only breathe clean, fresh air, no matter where you are in your house.
Whole home air purifiers come in a wide variety of types and sizes, so we're going to focus on some of the best models to help you find a whole home air purification system that best suits your personal needs and preferences.
---
What's In This Buying Guide
In this buying guide, we review some of the best whole house air purifiers available today.
We also provide a comprehensive buying guide that includes an explanation of how these units work, their pros and cons, and the features you need to consider before purchasing one, among other things.
---
Best Whole-House Air Purifiers
Honeywell F300E1019

Best for smokers

Filtration Life
No Replacement Needed

Particle Removal Rate
98%
Aprilaire 5000 Air Cleaner

Best for allergies

Filtration Life
12 months

Filter Type
Traditional and Electrostatic

Particle Removal Rate
98%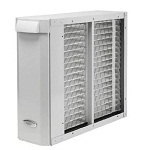 Aprilaire 2410 Air Cleaner

Most pocket-friendly

Filtration Life
1-2 years

Filter Type
Extended Media Filter

Particle Removal Rate
97%
Medify MA-112 Air Purifier

Best Portable Air Purifier

Particle Removal Rate
99.9%
---
The Honeywell F300E1019 is an excellent, versatile whole home air purification system that undoubtedly deserves a place on our list of top picks.
Compatible with almost all ducts and HVAC systems, the F300E1019 can operate with oil, gas, and forced air AC and warm furnace systems.
Pros
An effective 3-stage filtration system
Does not need any replacement filters
Durable design ensures a longer life
Filters efficiency-robbing gunk
Extremely low pressure drop
Cons
Releases trace levels of ozone
Our Review
The Honeywell F300E1019 electronic air purifier boasts a performance-enhancing post-filter that optimizes airflow and captures most airborne particles and contaminants that pass through it.
It features a self-regulating,fully automated solid-state power supply and maintains optimum efficiency, even during the harshest conditions. Its rugged zinc-coated cabinet further provides corrosion protection and superior strength, ensuring the purifier lasts a long time.
This electronic air purifier's design filters efficiency-robbing airborne particles before they damage critical system parts. The unit is also incredibly low-maintenance, as you just need to remove its filter after every 6 to 12 months, clean it, and replace it.
The Honeywell F300E1019 captures almost all the pollen, dust, bacteria, and airborne pollutants in your house. Its electronic filter is also excellent at removing byproducts of cigarettes, making it the perfect option for smokers.
With a solid-state power supply, excellent build quality, and a MERV 11 rating, this Honeywell unit is definitely one of the best whole home air purifiers available today.
Coverage area: Depends on AC
Filtration life: No replacement needed
MERV Rating: 11
Dimensions: 25 x 6.75 x 16 inches
Weight: 33 Pounds
---
The Aprilaire 5000 Air Cleaner uses 72 square feet of filtering media to electronically charge all the airborne particles. It then captures them like a magnet, ensuring fresh, clean air in your house at all times.
Offering the highest efficiency possible, the 5000 model is the best whole house air purifier for people with allergies.
Pros
The energy-efficient design saves money
Extremely quiet operation
Cleans the air in your entire home
Ideal for allergies
It comes with an air cleaner controller
Excellent particle removal rate
Cons
A bit difficult to install
Our Review
TheAprilaire 5000 air cleaner captures and eliminates 98% of pollutants and airborne particles as small as 0.1 microns with an ingenious combination of traditional air filters and electrostatic technology.
The Aprilaire 5000 is perfect for reducing allergens in the air and excels at dust and pollen removal. It also captures 94% of asthma-causing dust and 99% of spores, pollen, and mold, making it the best whole home air purifier for allergies.
Since this Aprilaire model is an air purifier for furnaces, you'll have to install it on or near your furnace. Plus, with 72 square feet of microfiber filters, this unit permanently captures and eliminates airborne particles as they pass through your HVAC system.
Unlike other models, the Aprilaire 5000 also comes with an air cleaner controller that allows you to run the air purifier independently of your cooling or heating system.
It is also one of the best whole house air purifiers because of its adjustable energy-efficient settings, whisper-quiet operation, and easy maintenance. Overall, it's ideal for people suffering from severe allergies, asthma, COPD, or other respiratory problems.
Coverage area: Depends on the HVAC system
Filtration Life: 12 months
MERV Rating: 16
Dimensions: 12 x 31 x 16 inches
Weight: 29.5 pounds
---
The Aprilaire 2410 air cleaner is a cost-effective and efficient way to purify the air inside your home. It offers exceptional value for money and delivers an excellent performance-per-dollar ratio, as well.
Pros
Low-cost and easy maintenance
Excellent cost performance
Suitable for individuals with severe allergies
It comes with a 5-year limited warranty
It does not produce ozone
Cons
Filters are a bit hard to find
Our Review
The Aprilaire 2410 is a furnace-mounted air cleaner, so make sure you check whether it's compatible with your HVAC system before buying it. It boasts an extended media filter that's 30 times the size of basic 1" furnace filters and can remove 98% of visible contaminants and airborne particles.
The 2410 features a MERV-13 filter that can capture and eliminate 96% of pet dander and dust, as well as 97% of airborne pollen, fungi, and bacteria. It can also filter out approximately 75% of smog and tobacco smoke.
This Aprilaire model is extremely easy to maintain, as you just need to replace its filters roughly once every 12 months. Since the air purifier doesn't have any moving parts, you don't have to worry about ozone as well.
The Aprilaire 2410 is also easy to install, but we still recommend hiring a professional to take care of it.
Coverage area: Depends on the HVAC system
Filtration life: 1-2 years
MERV Rating: 13
Dimensions: 28.2 x 17.75 x 6.75 inches
Weight: 17 pounds
---
Boasting powerful suction and a modern design, the Medify MA-112 is one of the most effective air purifiers available today. It sucks in air from two sides, distributes it in a complete 360-degree radius, and covers a 3700 square-foot house in just an hour.
This medical-grade air purifier features a True HEPA filter, making it highly efficient at filtering even the smallest particles. It's also designed with a digital display, so you have an idea of the air quality in your home.
Pros
Eliminates 99.9% of particles
Cleans a 3700 sq ft house in an hour
Virtually silent operation at the lowest setting
It comes with a sleep mode
Child lock makes it perfect for both pets and kids
Easy to use
ETL, CARB, and Energy Star certified
Cons
It takes up a lot of space
Our Review
The Medify MA-112 air purifier can clean a 2500 square-foot room in half an hour and a 3700 square-foot room in an hour. The filter's high CADR rating (950) is the main reason behind its effectiveness and power.
The MA-112 sucks in contaminated air and then disperses clean air in several different directions.
It also features an air quality indicator that changes color to show improvements. Meanwhile, a digital number readout indicates the Particle Matter of the air. A lower number means less indoor pollution and cleaner air!
The Medify MA-112 automatically adjusts fan speed as needed, but you can also regulate it yourself by choosing from 4 different speeds if you prefer.
With 4 filtration levels, this whole-house air purifier offers a medical-grade performance. Its True HEPA filter effectively removes 99.97% of particles measuring 0.3 microns and eliminates everything from allergens and pet dander to larger fibers.
You can also lock this Medify model if you want to prevent small fingers from playing with the settings. The air purifier also comes with hidden wheels, making it easier for you to move it from one room to the other.
However, this unit is a bit large and might not blend well with the existing décor in your home.
Coverage area: 3700 sq. ft.
Filtration Life: 6 months
MERV Rating: 17
Dimensions: 28 x 16 x 15 inches
Weight: 32 pounds
---
Whole-House Air Purifier: Buying Guide
What is a Whole-House Air Purifier – and How Does It Work?
Whole home air purification systems remove unwanted contaminants and particles from the air in your house as they pass through their filter.
Freestanding and portable units use fans to pull in air, purify it, and disperse it back out again. On the other hand, HVAC air purifiers are installed in front of the supply or return air, filtering out particles as soon as the air passes through.
The way the filter itself removes and eliminates contaminants from the air depends on the type of filter your unit has.
For instance, electronic filters use ionization, a process that involves electronically charging airborne particles and pulling them out on a collector plate. Meanwhile, media filters use a physical barrier to capture tiny particles.
Some whole-house air purifiers combine both filtration methods or add additional elements to capture even more contaminants and particle types. For example, they might have an activated carbon filter to eliminate odors.
Types of Whole-House Air Purifiers
Some air purifiers are marketed as whole-house models, but they're just large portable units. Although they purify relatively more air, they don't actually filter all the air in your home.
True whole home air purifiers are those that are built into your HVAC system and are available in two types:
Furnace Filter Systems
If you already own a forced-air furnace, you already have a basic air filtration system. This is because these units come with a matted fiberglass filter that protects the furnace from large dust particles and other contaminants.
Make sure you change the filter once every month, or else it will become clogged with dust, stop working, and eventually overwork the furnace. Although furnace filter systems make the air in your house a bit cleaner, they don't remove the microscopic particles that irritate your lung tissue.
Duct-based Systems
In-line air purifiers or duct-based systems are air purifiers that are integrated into your business or home's existing HVAC ductwork to filter the air inside your house.
A duct-based system neutralizes dander, pollen, germs, dust, and dirt with ionization or UV light technology. A UV model uses ultraviolet rays to remove harmful particles and contaminants that pass through your home's air ducts.
Since air streaming through the ducts already passes through a filter, a UV model is mainly used to remove odors, germs, and minuscule particles not trapped by a common HVAC filter.
On the other hand, ionization whole-house air purifiers electronically charge air particles, so they bond with positively charged molecules, including dust, soot, pollen, germs, dirt, and smoke.
Once the particles bond, their weight increases, and they fall on a nearby surface or to the ground, so you can easily vacuum or sweep them up over time.
Why Buy a Whole-House Air Purifier?
A whole-house air purifier can benefit you in many ways, and you should purchase it because it:
Reduces odors
A quality air purifier can make your entire home smell better if it has the right type of filter. It's better to get a unit with an activated carbon filter, as it can help remove many odors.
Protects your health
Whole-home air purifiers can eliminate viruses, bacteria, and other microorganisms that damage your health, preventing you from getting sick. They also neutralize carbon monoxide, smoke, and other VOCs.
Increases productivity
Research suggests that indoor air quality can affect workplace productivity, with cleaner air resulting in increased productivity. So, if you work from home, it's better to get an air purifier.
Eliminates dust, pollen, and other allergens
Whole-house air purifiers can remove pollen, dust, spores, and other contaminants from the air in your house. This makes them perfect for individuals suffering from hay fever, allergies, or asthma.
Features to Consider: Whole-house Air Purifier
A whole-house air purifier is a significant investment, so it's crucial you choose a model that best suits your needs.
To ensure you make the right decision, we list and explain a few main features you should consider before finalizing your purchase.
Air Filter Type
Different whole-house air purifiers use different kinds of filters to eliminate airborne pollutants and contaminants in your house. The air filter type determines which pollutants the unit will remove.
HEPA filters are usually considered the highest standard, as they can trap 99.97% of all particles and contaminants larger than 0.3 microns. However, they need an additional fan for filtering the air, so they're not compatible with all HVAC systems.
ULPA filters are a relatively newer technology that captures 99.99% of particles bigger than 0.12 microns, but they also restrict airflow.
If you want to get rid of odors in your home, an activated carbon filter is the best choice. Along with smells, these units filter out formaldehyde, chemicals, gas molecules, and more.
MERV Rating
The MERV rating of an air filter ranges from 1 to 20, and the higher the number, the more effectively an air filter removes allergens and particles from the air.
However, a higher number also means greater air resistance, resulting in reduced airflow through the HVAC system.
It's better to choose a true HEPA filter with the highest MERV rating, but make sure you check it's compatible with your existing ventilation system before you make the purchase.
Coverage Area
Whole-home air purification systems integrated into your existing HVAC ductwork can cover much larger spaces than smaller, single-room models. Remember to check the unit's coverage area to make sure it's suitable for your home.
Although portable air purifiers are ideal for individual rooms, some larger models can cover your entire home if you live in a small house or apartment.
Noise Level
If you're planning on running an air purifier in your office or bedroom, you won't appreciate the sound of a noisy fan.
Most companies list the noise levels of their units in decibels, so it's better to choose an air purifier with less than 40dB if you're going to use it in your bedroom.
Noise levels also vary according to the speed of the air purifier's fan. Some models come with sensors that automatically lower the fan speed once the air is clean to offset the loud noise, while some air purifiers allow you to manually decrease the speed as well.
We recommend choosing either a fanless model or one that offers a 'sleep mode' and whisper-quiet operation.
Energy Efficiency
If you're worried about your energy bills, you should look for a highly efficient air purifier. High-efficiency models consume less energy to clean the air in your home, reduce your carbon footprint and keep your electricity costs down.
Air Filter Life and Overhead Cost
Most large HEPA filters can last for up to 5 years with proper maintenance. But if your house has a large amount of particulate matter and contaminants in the air, then the filters will only last for around 2 to 3 years. Carbon filters also have an average lifespan of 3 to 5 years.
Whole-house air purifier installation costs can range from $300 to $700, depending on the model you're going to install and your existing HVAC system. Other overhead costs include the electricity bill and filter replacement costs.
HEPA filters cost approximately $40 to $100 and need to be replaced once every year, while some filters need replacement after every 3 months. Air purifiers that use ionization don't need any filter replacement, but they might produce trace ozone levels.
Remember to compare the price of the purifier and its overhead costs with the amount of use you're planning on getting out of it to ensure it's well worth the cost!
Installation and Maintenance
Air purifiers are mainly of 2 types: portable units and HVAC units. Portable or freestanding whole-house air purifiers are very easy and straightforward to install – you just need to plug it in and switch it on.
On the other hand, HVAC units are integrated into your home's existing ductwork. They're extremely difficult to install, so it's better to hire a certified technician to do it for you.
If you're planning on installing it yourself, make sure you do your homework first and try to select a model that's relatively easier to install.
All whole-house air purifiers need some type of maintenance, but some require a bit more than others. It's better to consider the amount of maintenance the unit will need before making the purchase.
Price
A quality whole-house air purifier costs around $500 to $1000. Although budget models are available at a lower price, they're not that effective.
Warranty
We recommend choosing an air purifier that comes with a good warranty. Most models have some type of warranty, but the nature and length of the coverage are different for each one. The better and longer the coverage, the more confident the manufacturer is in its product.
How to Use a Whole-House Air Purifier
In order to get the most out of an air purifier, you have to set it up and use it properly. Following are some tips on how to set up and operate your whole-house air purifier:
Remove the filter wrappers
Most air purifiers come fitted with filters, but most of these filters are usually sealed and wrapped in plastic. Make sure you open your model's filter panel and remove any plastic covering before turning it on, or else the air purifier won't work properly.
Choose the right location
If you're opting for a freestanding air purifier, make sure you don't place it too close to the wall, door, or other solid objects. It's better to place the unit in the middle of the room so that it can draw in the maximum amount of air.
It's also advisable to keep the air purifier at least 24 inches away from the wall or furniture for proper air circulation.
Keep it running 24/7
It's better to keep your air purifier running 24/7 to get the most benefit out of it.
Higher quality models boast an automatic setting that eliminates all the guesswork of how to use them.
With this setting, the air purifier constantly monitors the air quality and automatically adjusts itself to remove airborne particles and contaminants.
If it detects only a few particles, the unit will operate on the lowest fan speed. Similarly, if it detects a higher number of contaminants, it will run at a higher fan speed.
Keep doors and windows closed
You should keep the doors and windows of your house closed if you're using a whole-house air purifier. If you leave a door or window open, the unit will constantly draw in unfiltered air.
On the other hand, closed doors and windows will allow the air purifier to filter the same volume of air again and again until it removes the majority of airborne particles in your house.
Pros and Cons of Using a Whole-House Air Purifier
A whole-home air purification system is particularly beneficial for individuals who suffer from extreme allergies or have special medical needs. However, the high costs and lack of options may be dealbreakers for some.
Make sure you compare the benefits and drawbacks of whole-home air purifiers yourself before making an investment:
Pros
Cons
Care and Maintenance of Whole-House Air Purifiers
You'll have to rinse off or vacuum the pre-filter of your air purifier once every month to ensure optimal performance and longer filter life.
Maintenance of whole-house air purifiers is very easy as well, and you can simply do it yourself. You just need to replace the filters after every few months.
This is fairly straightforward, as you only need to locate the filter compartment, replace the old filter with a new one, and close the panel.
However, make sure you consult the owner's manual for specific instructions about the care and maintenance of your model.
---
Frequently Asked Questions
When should I change the filters of my whole home air purifier?
If your air purifier has a HEPA filter, you should replace it every 12 to 18 months. In comparison, you should replace carbon filters after every 3 to 6 months.
You should clean pre-filters after every 30 days and replace them when they wear out. Lastly, permanent filters should be cleaned after every 3 months and changed when damaged. However, it's still best to consult the owner's manual for your unit's filter replacement timeline.
Most air purifiers also come with a filter replacement indicator that lights up when it's time to change the filter, taking out all the guesswork of the task.
How do I check indoor air quality?
You can test the air quality in your home by using an indoor air quality monitor, installing carbon monoxide alarms, testing for mold, or conducting a radon test.
How can I improve the air quality in my home?
Although it's not possible to remove all the allergens in your house, you can decrease the number by making a few simple changes:
Is a whole-house air purifier better than a portable model?
If you want to clean the air in only one room in your home, a portable air purifier is the best option. But if you want to improve air quality throughout your entire home, a whole home air purification system is the more suitable option.
---
Final Verdict: What Is the Best Whole-House Air Purifier Sold Today?
With so many different models available today, choosing the best whole-home air purifier is next to impossible.
But if you suffer from extreme allergies, you should opt for the Aprilaire 5000 Air Cleaner, while the Aprilaire 2410 Air Cleaner is the best option for those on a budget.
If you want something that you just need to plug in to use, then the Medify MA-112 Air Purifier is the best option. And, if you're a smoker, the Honeywell F300E1019 should be your best bet.
However, make sure you go through all the aforementioned whole house air purifier reviews and find the model that best suits your needs!